our track record speaks for itself...
Call AT&E at 972.423.6008 or e-mail us at aspect@airmail.net for additional information.

Export of night vision and thermal imaging products requires a valid export license and is regulated by the U.S. Department of State in accordance with guidelines of "International Traffic in Arms Regulations (ITAR)" per Title22, Code of Federal Regulations, Parts 120-130
IMAGE INTENSIFIED (I2) NIGHT VISION DEVICES
All our night vision products are manufactured in the U.S. using the latest image intensified technology and tested to strict military quality standards.
AN/PVS-14A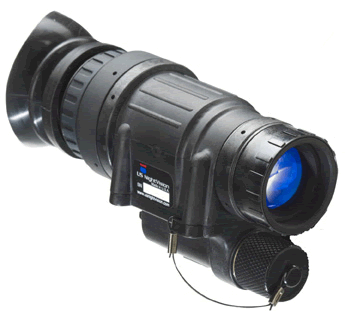 AN/PVS-14A (M914A)
The AN/PVS-14A is the optimum night vision monocular for users who require a multi-purpose night vision device. This system can be used hand-held, weapons mounted, camera/camcorder adapted, or head/helmet mounted for hands-free operation. The AN/PVS-14A has a variable gain control which allows the user to adjust the image brightness for use in varying light conditions. The AN/PVS-14A is offered with a Non-Gated or an Auto-Gated image tube to better suit end-user application. The addition of a 3x or 5x magnifier lens allows for long range observation and the built-in infrared illuminator enhances viewing in the darkest conditions. The newly redesigned AN/PVS-14A operates on a single "AA" battery and is built to fulfill the most demanding applications. Ships with: Monocular, Headmount, Brow Pads, Transfer Arm, Military Soft Case, Shoulder Strap, Demist Shield, Sacrificial Window, Objective Lens Cap, Lanyard, Eye Cup, AA Battery, Lens Tissue & Ops Manual.

SPECIFICATIONS
Technology: Gen 3
Diopter: +2-6
Battery: (1) AA battery
Magnification: 1x
Weight: 12.2 oz
Run Time: 40 hours
Field Of View: 40 degrees
Size: 4.5" x 2" x 2.5"
Warranty: 1 Year
| | |
| --- | --- |
| | |
---
AN/PVS-24
AN/PVS-24A (M2124)
The M2124 is a rugged, clip-on night vision device based upon the military nomenclature AN/PVS-24 used by U.S. Special Operations Forces.

The advanced design of the M2124 eliminates the typical requirement of removing a primary (day) sighting system since the CNVD mounts in line with a standard day optical sight. Combining day and night vision sights eliminates the need to re-zero, since the primary sight remains undisturbed. Additional advantages to supplementing a primary sighting system with the M2124 include maintaining a user's consistent eye relief and shooting position as well as retaining user muscle memory. By operating the locking quick-disconnect, single-throw lever mounting system provided, the M2124 easily attaches to a MIL-STD-1913 rail interface system. The unit may also be used as a hand-held observation device.

Ships With: Sight, Quick-Disconnect Mount, Batteries, Lens Tissue, Adjustment Wrenches, Soft Case & Ops
SPECIFICATIONS

Technology

Generation III Auto-Gated

Magnification

1x

Field of View

13°

Objective

55 mm

Weight

1.7 lbs

Dimensions

2.9" x 3.5" x 5.8"

Power Source

1 x 3V Lithium

Warranty

1 Year Limited
---
AN/PVS-7B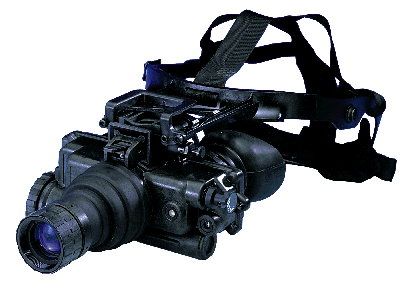 The AN/PVS-7B is the night vision device used most extensively by the U.S. military. This high performance night vision goggle is the State-of-the-Art in single tube Night Vision technology.
The AN/PVS-7B Night Vision Goggles use the latest in high performance GEN III image intensifiers. Its high gain and superb resolution provides night viewing capability to starlight conditions. It can be headstrap mounted or handheld. The system contains an IR (infrared) illuminator for close up viewing in total darkness. Engineered for maximum comfort, the AN/PVS-7B is simple to use, it has a built in low battery indicator and incorporates a high light sensor which automatically cuts power to the image tube when too much light is present..
.Key Features
State-of-the-Art U.S. Technology
Ultra Light Rugged Construction
Gen III Image Intensifier Tube
Manufactured to U.S. Military Specifications
Bright Light Source Protection
Automatic Brightness Control
Built-In Infrared Illuminator
Uses Standard "AA" Batteries
| | |
| --- | --- |
| | |
---
Night Vision NOCTRON (No Longer Available)

ATE/NS1001
The Noctron Night Vision Scope….Symbol of Premium Night Vision Performance

Key Features
135mm f/1.8 objective lens (5.4X) designed for night vision applications
Gen III 25mm image intensifier that makes use of military technology in a rugged llightweight metallic housingPrecision focusing eyepiece with rubber eye guardAdjustable comfort grip removable handleLens cleaning kitOperators manualTwo "AA" alkaline batteries
Weather protective rugged hard case
---
Call AT&E at 972.423.6008 or e-mail us at aspect@airmail.net for additional information.